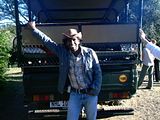 South Africa Highlights:
I spent over 24 hours waiting in airports, before and after boarding two separate 10 hour flights.
After arriving in Durban, South Africa, I found that the city held the largest population Indians outside of India.
I stayed in the best hotel in Durban, thanks to the Forsthoff family.
I met incredible people such as Eric, Rhonda and Luke Forsthoff, Mike and Terry Miller, Bishop Dale Bronner, everybody at Young Life Church and the John Maxwell staff.
I went boogie boarding, and body surfed in the best waves I've ever experienced.
I Participated in John Maxwell's Million Leader Mandate by teaching hundreds of pastors, from various backgrounds, leadership principles.
I went on a Safari, and hung out with a Cheetah.
I Spoke and drummed at Young Life Church, an excited, God saturated, growing Church.
I Received a word of prophecy from the Owner of Wimpy's (the Southern Hemisphere's equivalent to McDonald's).
Finally, I spent over 24 hours waiting in airports, before and after boarding separate 10 hour flights. I am, however, not complaining because my dad recently waited 26 hours straight in JFK (a New York airport).
Comments:
The trip was not what I expected. I never met John Maxwell.
The trip was amazing. I learned from seasoned ministers, and saw Godly marriages in action. Also, Lucas sharpened me as a man of God.
I had fun. We laughed a lot. Ministers should laugh a lot.
I silenced a fancy shmancy restaurant with my raptor impression.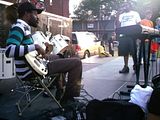 Wayne and Kristi Youth Evangelist Internship Highlights:
In less than twelve hours after arriving in Minnesota from South Africa, I set drums up on stage for the Twin Cities Outreach.
The Twin Cities Outreach specifically trained students to share their faith. In the mornings, I drummed for the worship services and speakers preached and prepared the students to minister for the rest of the day (an amazing method). Thousands of people heard the Gospel because of this ministry. The evangelism consisted of large stages that drew hundreds, street witnessing, service ministry (free stuff) and mingling within the community.
I played bass for a week long junior high camp in Boone, Iowa.
I played drums for a week long junior and senior high camp (600 campers) in Alabama.
I drove a stick shift vehicle by myself for the first time (I split an 18 1/2 hour drive from Alabama to Minnesota).
Comments:
I have a mentor in my life! Disciplers teach Christianity, but Mentors teach ministry. Wayne and Kristi, the evangelists I am interning with, have everyone traveling with them (Summer Carlson, Benjamin Block, Hannah Griffin, and Me) answer what we learned practically and spiritually everyone night after the service. Then he lets us ask as many questions as we want. On more than one occasion we've all stayed up past three in the morning for these mentor times.
I have read more than ten books this summer on evangelism, and with this internship my knowledge and passion for it is growing rapidly.
It seems that God is participating in our church services. People are getting healed, called to the ministry, baptized in the Holy Spirit, sanctified and saved. One guy with scoliosis had his spine straighten up instantly on stage, by the power of God. Another student, born blind in one eye, was also healed instantly. I'm seeing kids freak out in the presence of God and pursue Him with everything they got.
The music in worship is free. There have been times where everybody on the stage was prostrate before God or knelt down. It's Prophetic worship.
Teenage girls really like college musicians. Don't worry; the college musicians don't like them back.
I am blessed.
I'm still in my internship-- I have two camps left in Minnesota. In the future, I'll share more specific funny and powerful stories, but be content with the bullet points for now. Please pray for me. Experiencing, learning, and growing this much is challenging.