Pradeepan's Big City Bordello Adventure!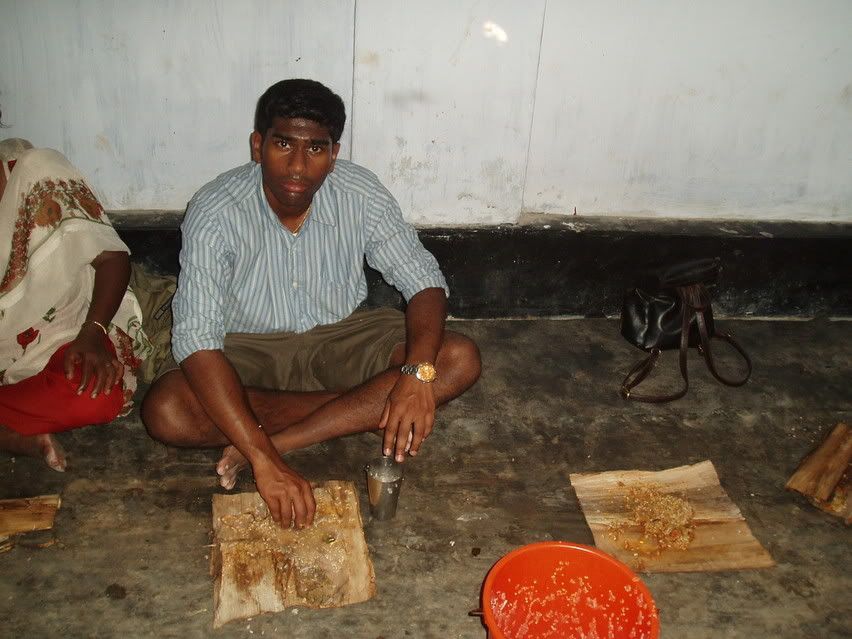 In the last 36 hours, 24 have been spent on a train. For 12 of those 24, 2 options were given: stand or sit on the cockroach infested floor. Xanga friends, if a Sri Lankan heard me saying this, he would say, "poy!" (Poy:lie). Those last statements were only true a couple days ago.
The trains here are crazier than the buses. When I saw my first road here, the traffic's pure chaos caught my attention, and I thought "Americans could never drive here." However, God has taken me to the deeper revelation. American's could not even walk here. Yes, I have a hard time walking in Sri Lanka. For some reason I feel guilty pushing old ladies off trains in order to walk like everyone else. That probably clears up my reason for standing in the train all those hours. I refused to push my way to the front.

Sri Lankans are of the bi-polar sect, especially when it comes to being aggressive. I will use my train experience to begin this thought. Before the train arrives, everyone waiting is considered family. Sharing food, conversations, and laughs all add to the feeling of family. Heck, I even spent some time with a stranger's baby. Trust. Then the train comes. And, like Eliza, when I use quality as an adjective to describe someone, the family snaps. The people gird their loins like men and run the race to win. As people literally jump on the moving train, others literally try to push them off. Mothers betray their sons, and daughters forsake their grandparents. My train companions actually scolded me for not pushing my way through.
Becoming all things to all people nothing. This is one thing I refuse to mimic. I guess I'm learning something from Scott's revelation on keeping the core, but changing.
Old ladies do not deserve to die on train tracks. Case closed.
I only said I would use my train experience to begin my thought on the bi-polar actions of Sri Lankans.
This thought applies to greater things than transportation, or walking to that transportation.
Girls. Yes, they're still on my mind.
Sri Lankan girls have demonstrated intriguing extremes for me. When around Lankan boys, or perceived born and raised Lankan boys, they tend to be an almost timid type of shy, as oppose to the prideful type of shy. The girls act that way with me also. Then they hear me speak. Then, like not-Maus when hearing the first clap of thunder, they snap. They realize I'm different, and gird their loins…uh…they get aggressive. Somehow, I become free game. Perhaps a little green card happy, but that doesn't matter to me. The motivation of a girl giving me attention has hardly ever mattered. Oh what a fun life I live. I'm not going to "poy," it feels good to be called a beautiful man. Ask a friend to call you one sometime, seriously.
Needless to say, not a lot of ministry has been going on. Don't forget, that was never the intention for this trip. The intention has been to develop relationships with my family. It feels so good to be with family, like my dad's mother. Mind you, I had never even seen a picture of her.
Believe it or not, all this has been an intro to a story Zimm and Keesh suggested I share. Maybe it wasn't an intro. Preface. I like that word. One day, perhaps I can be known for writing amazing prefaces. Moving on…
Pradeepan's Big City Bordello Adventure!
The boy's name was Gavtiago. The sun was rising as the boy arrived with his herd to an abandoned bathroom in Colombo, Sri Lanka. Oh, Coelho. My mother allowed me to travel to Colombo, the nation's capital, by train with two young men, Gav and Nesh. Little did Gav, Nesh or I know what horrors we would encounter. Well, maybe Gav, since he's a hilarious dirty man of a Sri Lankan. Initially, Gav was a shy and polite young man, but outside the presence of mothers, and with us boys, he was a hilarious dirty man of a Sri Lankan. Again, the two extremes were at work.
"You want massage?" while demonstrating on my shoulder, was one of the first ideas communicated to me when finally arriving in Colombo. My first month in Sri Lanka, I experienced the typical tourists ideas of fun. That included a massage.
"Virrapum Illay" I responded. In Tamil that means I don't like. But, I sometimes use it to say I don't want (I don't want: Vernom). A little later, Gav and Nesh took me on a tour through the city. Nesh held my hand (Sri Lankan boys hold hands, fingers interlocked and all. It's actually quite beautiful when done in purity), and translated Gav's questions about American women for the majority of the time. Gav "virrapum" the American ladies. He wants one that smokes and wears a bikini. When I say smoke, I mean cigarettes. Colombo is the probably the trendiest city in Sri Lanka, and it was nice to see everything in it. Though, the experience was lessened because "you want massage" kept on popping up in our conversations.
By the 7th time, I stopped getting annoyed and started getting curious,
and he probably wanted the massage anyways.
I checked my backpack in, and followed Gavtiago up the stairs. I figured if I just looked, he'd stop bugging me about the massage. "Wanga" (come) said the lady at the desk as she get led me to another room. Gav simply smiled. The empty room gradually filled with Sri Lankan women. Innocent in thinking, I thought "how strange." Then, I noticed that these women weren't clothed like normal Sri Lankan women, and wore a lot more makeup than the normal women.
I engaged in a conversation with my heart.
Probably not the best time, for to everyone else it looks I've gone brain dead.
"What the crap are you doing in this Bordello" Heart said.
"Bordello" Wait…those are prostitutes?" the innocents/Godly boy inquired.
"Yeah. Just look at them."
Heart related and said, "Tell me about it. Guard your carnal treasure Pradeepan."
"Guard my carnal treasure? Heart, you know me better than that. This is disgusting"
"Pradeepan, get outta there!"
"Lighten up, we are in a bordello after all" I jested.
Not amused, Heart replied, "don't make me get the Holy Spirit."
All of that took place in about five seconds. A long time, when so many people are staring at you.
I didn't know what to do. I talked to the sun, the wind and dessert and still didn't know how to turn into the wind, so that wasn't an option for escape. In Tamil, I had to take action. "Virrapum Illay! Virrapum Illay!" I proclaimed. Remember, that means I don't like, but I used it to say I don't want. When 10 plus girls are waiting for you to choose one of them for a "massage," saying I don't like is not the best thing. They went from seducing me, to a sort of offended anger, as oppose to the irritated type of anger. Those girls got real scary.
I can relate to Joseph the Dreamer. He ran from Pottifer's wife, and while still proclaiming "virrapum illay," that's exactly what I did.
Nesh never went inside. Somehow, he knew. Take this advice, if someone takes you to get a massage, and you have to walk through a bar to get to it, don't go. Maybe that's how Nesh knew.
I scolded Gav, and explained to him "naan Pastor" (I am a pastor). He already knew that though.
We had a good laugh about it, and everytime Nesh and I see the shy and polite boy that Gav is,
in the presence of mothers, we laugh.
Oh, what a hilarious dirty Sri Lankan of a man.
This has got to be my longest Xanga entry. Before I leave, I want to affirm you all that I'm still a man of God. The reason Gav, Nesh and I were able to have a good laugh is because nothing happened. Praise God. I never want to go in a place like that again. Eww.
Anyways, I also want to thank you all for the encouragements. I re-read all your comments, prayers, and words of affirmation so many times. Words of affirmation is
definitely one of my better ways of hearing love. If I'm not commenting on your site a lot, don't worry. When I see you in real life, you're probably going to get a lot of kisses fro me.
This post might look weird. It doesn't look right on Sri lankan comps.
I might meet the prime minister today.
Made friends with a good English speaking born again Sri Lankan (his father didn't talk to him for seven years, starting at the age of 9, because of his conversion to Christianity). His name is Raja.
Raja's best friend has the same birthday as me. July 9th.
God is still transforming me.
I love you, in ways I never knew how to before this trip.
Here are more pictures. Besides one, I'll just post the links. With the slow internet, it's easier for me.
(Everyone has a photo like this, so why not)
(One of my favorite pictures of those I've taken)
(Random people we hung out with in Jaffna. Look at my face.)
(Rebel force, LTTE, Leader's house)
(Father's childhood neighbor)
(Actual classroom my father used)
(First meeting with my Grandma)