Went to the enemy's camp.
(All school devo worshippers)
The way God develops relationships can be so frustrating, but...
He knows what He's doing.
Tonight our school had "all school devos," and we discussed the concept of being real. The place where we should be the most real is in the church, but sadly that's where most people's id crises happen. The preacher mentioned that Alcoholics Anonymous credited a large part of its success to forcing people to be real. Right from the start the alcoholics state that they have a problem. My name is Pradeepan Jeevamanoharan and I'm an alcoholic and so on. God is really challenging me to be real with Him and myself. To acknowledge when I fall and keep trying.
Some friends and I led worship for the service. God really met us where we were. I sin so much. I give up on God a lot, but He refuses to leave me. Man, Jesus precedes me and follows me.
I am at the point where I will leave Christianity unless I completely sell out.
God is teaching me how to focus my life around Him, and to really bring the Kingdom principles into my life.
That was the spiritual part of my entry...
This story brings a chuckle to even the most docile of my body. The preacher led an altar call in one of those emotional atmospheres that churches dream of. Stuff was going down. Lives were changing. During the prayer time, I mentioned to Symon that we should sing "I'm going to the enemy's camp." The song is a real toe tapper and not appropriate for an altar call unless you're going hunting or something later that night. Symon said that he would sing a slow song first and then go into the song. Thinking that he was being sarcastic as I was, I laughed and assumed my worship position.
He played the song in a worship style...somehow. It fit, and my respect points for Symon increased by 20 points. The crowd really got into it...somehow. God definitely was smiling, and the Devil was probably frustrated. God was glorified. Fantastic, the boy did it.
God moved. Amen.
(Symon, Neil and I lead worship)
SnuggleFest '05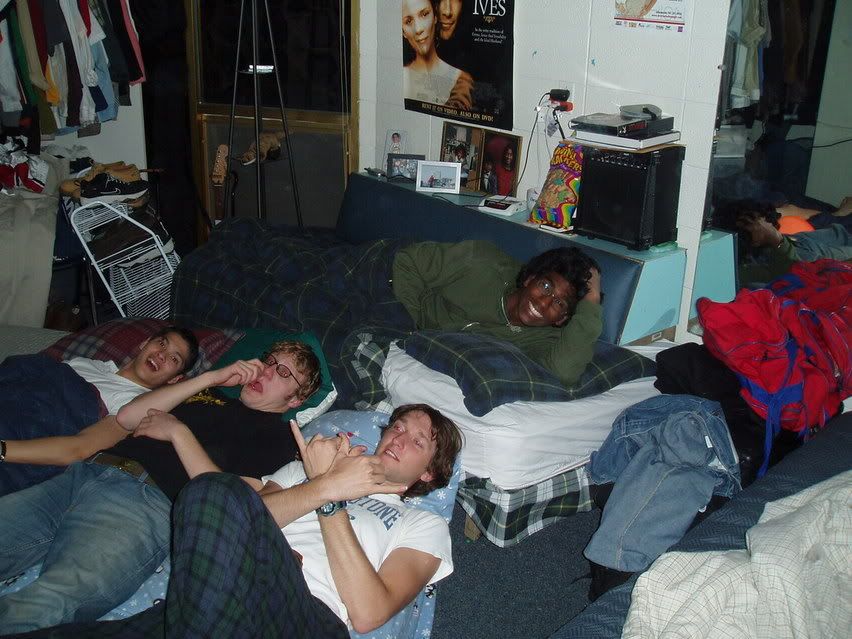 (The guys slept over last night)