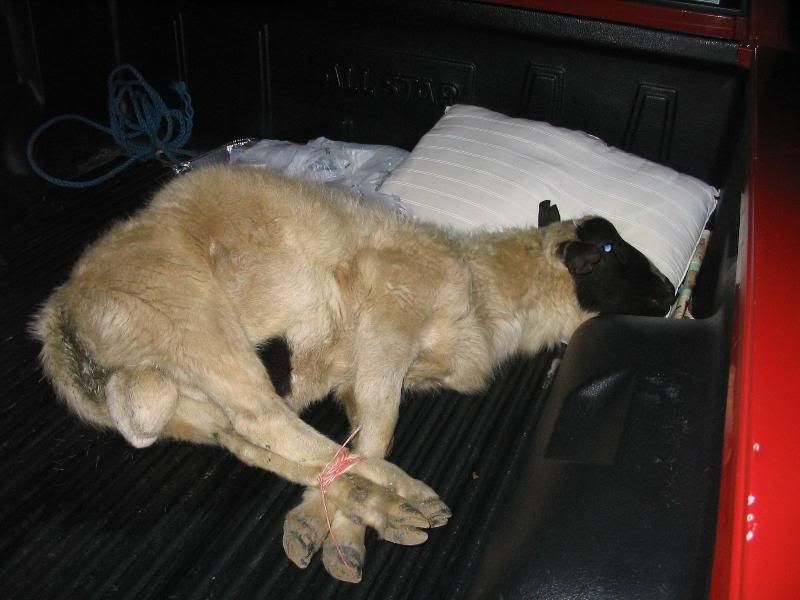 Trapped a lamb,
I don't embody masculinity. In fact, I grew up in the Suburbs watching Mama's Family on TV / Recorded VHS Tapes. However, there is a desire to be manly, to conquer the natural world and all that's in it, inside of me.
A couple weeks a go, I decided to plan an adventure to rock my comfort zone, and all who would follow. This might be a rather shocking statement considering that my last entry hosted a picture captioned with "SnuggleFest." To me, the fact that I had a "SnuggleFest" is reason enough to have an adventure.
I thought to myself, "What is the best way to plan an adventure?"
I bought a lamb. His name is Din-Din.

(We take care of our Din-Din)
I could have bought a buffalo for $2,000, but I purchased a lamb for $110. My friend's friend Joel Swails knew of an island an hour away from campus. He knew of an island off campus. We scouted the island out at night even though I had never met the kid. At our last turn before spotting the island, Joel exclaimed, "There it is!" while noticing a sign that said "Cemetery."
This was a strange start. The island was difficult to see because it was pitch black. I was soon used to it.
I got more than 30 people to say they would go to the island. The numbers dwindled when they heard about the lamb. The numbers dwindled when it was time to go. Similar to Gideon's situation, the numbers decreased even more when the time for swimming across the water came.
Maybe none of us should have swam across the water.
I planned this event, and planned it poorly...on purpose.
Eleven people showed up for the adventure, and seven people swam across (Nick, Luke, Pradeepan, Drew, Joel Watson, Chen, Symon, and Joel Swails).This was on Saturday and at 7:45pm we arrived at the lake. It was pitch black.
We didn't know where to swim, and...
THE WATER WAS FREEZING.
(Drew did not want to get in the water)
Putting the goat in the raft and ropes around the shoulders, Nick and Luke were first to swim to the Island.
I had told everybody that the swimming distance was only 100yards. Yeah, it was closer to 1000 yards. A significant difference when the water is 40 to 50 degrees.
While those two were off swimming, the rest of us figured out how to make wood float. It wasn't an easy task, but we managed. We each grabbed wooden palettes from some field, and attempted to put our belongings on them. Eventually, our belongings would drip with frustration.
Something funny:
While we were swimming across, the guys who were leaving met some campers. They wondered what we were doing. When they heard that we were swimming across, they asked if we had beer. Hearing that we didn't, they asked what school we were from, and started cheering "ORU ROCKS!" and "ORU is hardcore!" How's that for going into every man's world?
Back to Nick and Luke swimming to the island. When they finally arrived to the blind island, as we all would, they suffered from the first levels of hypothermia. Luke was dizzy, and dumb. Nick asked Luke to grab kindling for the fire, and while shaking uncontrollably, Luke asked "Why would we need a fire?" It was bad, Luke even tried to sleep (to his death!). Nick noticed this and pressed his body heat against Luke. Call it what you want, I call it hug.
Sadly, my event turned
into an extension of "SnuggleFest."
Those two were on the island with a loin cloth, towel, and a lighter. It took awhile to get the fire going, but they managed until it went out. Then, they stepped on the lighter, which caused it to sink in the mud. Thankfully, they blew on the fire enough for recovery. Us other five guys came to the island while pushing crates of luggage in the water. We were shaking uncontrollably, but had a fire to warm up to.
Here we were on the island. We had let the lamb go, and were in no mood for a hunt. Going into survivor mode, we cuddled around the fire.I saw disturbing things in those moments, like a six foot plus man wearing my community outreach hoody for pants.
He had to do that because our supplies were ridiculous. A rabbit hat, war supplies, clothing, salt, damp sleeping bags, woman's devotional Bible, knives, and various small products.
Something frustrating:
One of the only bags that made it over dry, was wet because a certain Kris Chen put an open water bottle in my backpack. I needed to get that out. We warmed up and decided to hunt the lamb. Taking sticks and machetes, we accomplished nothing. The lamb eluded us.
Lambs are hardcore.
We never found Din-Din. No lamb, no food.
Why do you think Mary had a little lamb? Protection.
Through out the night, I was paranoid of the lamb. Man, I needed this trip. By this time, we found Tuna, and it has never tasted so good. I hate fish, but loved it.
We sent Nick to get food. He was hard core.
Nick's adventure.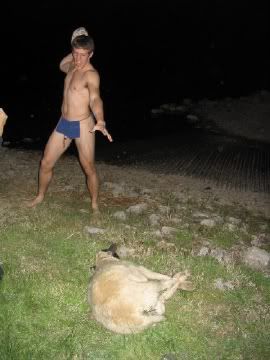 Nick ran into three police officers on his quest for food. The first one saw him ascend out of the water in a loin cloth. The second one saw him pounding on a gas station. The third cop saw him walking around Wal-mart with a loin cloth/water soaked crotch. He was gone for 2 hours, and the guys on the island thought he left. We didn't blame him. He only came because I asked him to help us butcher the lamb properly. He wasn't even planning to spend the night.
I don't know that our night was actually spent. We were so cold that we couldn't feel the fire. Our only warning of injury was the burning smell of our shin hairs. However, if we were 7 inches away from the fire we would freeze. This made sleeping a chilly experience. Imagine 7 guys with limited and damp sleeping materials.
It was "SnuggleFest" to the max.
I hate "SnuggleFest." I'm not going to even put SnuggleFest in quotations anymore.
Leaving.
Luke and I had to leave earlier than the rest of the group because we work at churches. It was dark, and cold, when we started swimming. But the sun rose as we jaunted to the glorious mainland, and it was strangely relaxing (probably because our core body temperature was lowering at the expense of our bodies). As Luke and I pushed the raft back across, a mallard dove in the water only three feet in front of us. Combined with the sunrise, I couldn't help but praise the LORD.
This whole trip made me praise the LORD. I love Him, and I love that He lets me live life like I do.
He's given me creativity, and unlike a lot of people I've met, isn't afraid when I choose to use it. Praise God.
I don't regret doing this trip.
In fact, we are doing it again on the 16th. The lamb will die.
Now go on and make your adventures happen.
I wasn't afraid to make an adventure happen even though we could have died (which is why this is a cool story), and Josh wasn't afraid to make his adventure happen.
(Josh aged 40 years in a weekend)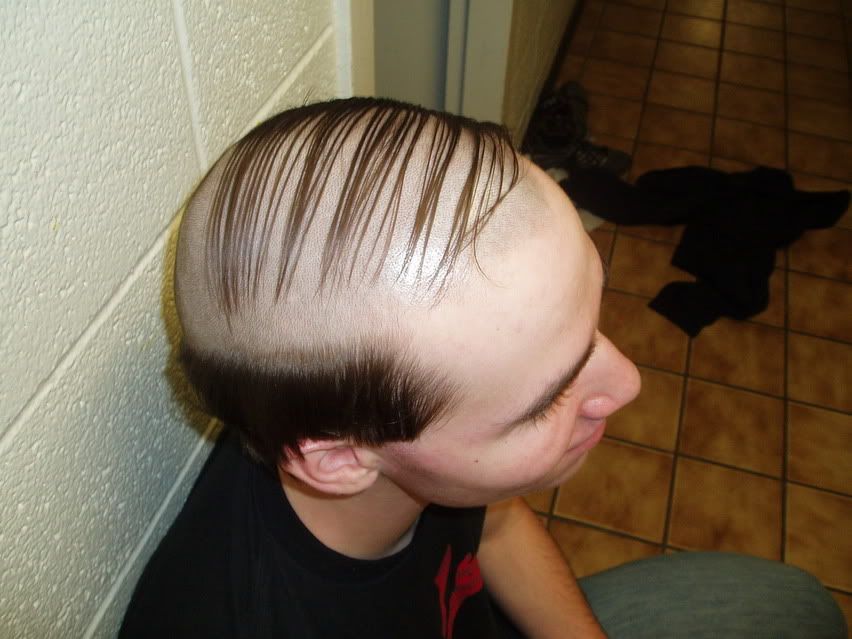 -Pradeepan Jeevamanoharan